3 LEDs – Main, Aux White, Red
Brightness up to 360 lumens, runtime up to 160 hours
Main LED has 4 brightness levels + 2 rescue modes
Red LED preserves night vision
High CRI auxiliary white LED for more natural color
Integrated Li-ion micro-USB rechargeable battery
Plug into a power bank battery to recharge
Featherlight – 1.17 oz (33.0 g)
Exclusive UL headband
Nitecore® NU25 is a triple output USB rechargeable headlamp. The main LED has four brightness levels up to 360 lumens and a runtime of up to 160 hours on low plus two rescue modes. A red LED preserves night vision and an auxiliary high CRI white LED is great for reading. With our exclusive UL headband it's light as a feather at just 1.17 oz (33.0 g). And recharge by simply plugging into a power bank. A thru hiker favorite.
NU25 has a micro-textured reflector providing 100˚ wide-angle flood illumination for outstanding night vision. The light tilts down up to 60˚ for reading or close-up work. The wide elastic headband is comfortable and highly adjustable to fit your head, hat, or helmet. Our optional UL headband reduces weight with full adjustability and functionality.

In addition to the main light, NU25 also has two auxiliary lights – red and white. The red LED helps preserve night vision and won't blind your friends. Use low during star gazing or night photography, high for gear organizing or doing camp chores, or caution for a repeated short red flash.
The auxiliary white light uses a neutral white LED with high CRI ≥ 90 for more vivid, natural color and reduced eye strain. It's great for short-range illumination, like reading a map. CRI (Color Rendering Index) is a measurement of how colors look under a light source as compared with sunlight. The index is measured from 0-100, with a perfect 100 indicating colors under the light source appear the same as they would under natural sunlight.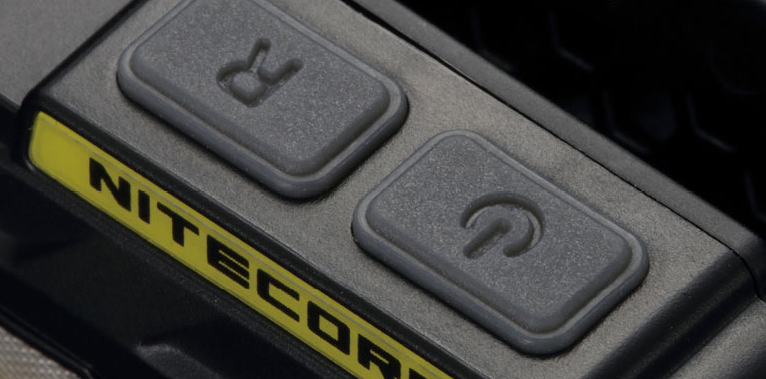 The headlamp has two buttons – Power and Red (R). For low light, press Power once. Within 3 sec, repeatedly press Power to cycle from low>medium>high>off. Hold down Red to immediately turn off or after 3 sec, press either button to turn off. Alternatively, for medium, press Power twice, and for high press Power three times. Hold down Red to turn off. To enter turbo mode, with the light turned on in any mode, hold down Power for 1 sec, and hold down Red to turn off.
You can also access two rescue modes, SOS and location beacon. SOS repeatedly flashes SOS in Morse code (. . . ––– . . .) The location beacon repeatedly flashes a single short flash. Hold down Power for 3 sec to enter SOS mode. Pressing Power within 3 sec again will change to beacon mode. After 3 sec, press either button to turn off.
For auxiliary white, hold down Power to turn on and hold down Red to turn off. For auxiliary red, press Red once for low, then within 3 sec, repeatedly press Red to cycle from low>high>caution>off. Hold down Red to turn off.
Press both buttons at the same time to lockout NU25 and prevent the light from turning on while in your pocket or pack. A red indicator blinks once to indicate lockout. Press both buttons again to reactivate the headlamp and enter low mode.
LED
Mode
Output (lumens)
Turn On
Turn Off
Main
Low
1
Press POWER Once
Hold down RED
Medium
38
Press POWER Twice
Hold down RED
High
190
Press POWER Three Times
Hold down RED
Turbo
360
Light On, Hold down POWER 1 sec
Hold down RED
SOS
360
Hold down POWER 3 sec
After 3 sec, Press Either
Beacon
360
Hold down POWER 3 sec, Press Once
After 3 sec, Press Either
Auxiliary White
-
20
From Off, Hold down POWER 1 sec
Hold down RED
Auxiliary Red
Low
0.9
From Off, Press RED once
Hold down RED
High
13
From Low, Press RED once
Hold down RED
Caution
13
From High, Press RED once
Hold down RED
NU25 has a built-in, long-lasting 610 mAh Li-ion rechargeable battery that holds power equal to three AAA batteries yet is much more sustainable. An intelligent protective charging circuit and a Micro USB connection make it easy to recharge. Since you probably already carry a spare battery to charge your phone, there's no need to worry about running out of power or replacing batteries, just plug into a power bank, wall charger, computer, or car (USB cable provided). The light maintains full functionality while charging.
To see how much battery power is left, with the light turned off, hold down the Red switch for 1 sec and release. The button will flash 3 times if you have more than 50% power, 2 times if you're below 50%, and 1 time if you're below 10%. Plug it in and an indicator light lets you know when the charge is complete. It takes approximately 2 hours to fully charge the battery. A rubber cover protects the USB port from dirt and moisture.
| | |
| --- | --- |
| Charging State | Indicator Light |
| Charging | Steady Red |
| Charging Complete | Steady Green |
Specifications
LED
Mode
Output (lumens)
Runtime (hours)
Beam Distance ft (m)
Beam Intensity (cd)
Main
Low
1
160
12.5 (3.8)
3.7
Medium
38
8
89 (27)
190
High
190
5
200 (61)
950
Turbo
360
0.5
266 (81)
1650
SOS
360
-
-
-
Beacon
360
-
-
-
Auxiliary White
-
20
6.25
18 (5.5)
7.5
Auxiliary Red
Low
0.9
68
-
-
High
13
7.75
13.1 (4)
4
Caution
13
13
-
-
Main LED: CREE XP-G2 S3 LED
LED Color Temperature
Main LED: 6300K, Cool White
Auxiliary White LED: 4500K, Neutral White
Color Rendering Index (CRI)
Main LED: CRI ≥ 70
Auxiliary White LED: High CRI ≥ 90
Battery: Built-in rechargeable Li-ion, 610 mAh
Lighting Modes
Main LED: Low/Medium/High/Turbo/SOS/Beacon
White Auxiliary: Medium
Red Auxiliary: Low/High/Caution
Beam Pattern: 100˚ wide-angle flood
Body: Polycarbonate, impact resistant
Tilt: 60˚
Switch: Top Power and Red buttons, rubber
Charging Connection: Micro USB, rubber cover (USB cable provided)
Charging Time: 2 hours
Dimensions, Light (LxWxH): 2.19 x 1.36 x 0.91 in. (55.5 x 34.6 x 23.2 mm)
USB Cable Length: 3.3 ft (1 m)
Weight
UL Headlamp Total: 1.17 oz (33.0 g) with built-in battery
Wide Headlamp Total: 1.85 oz (52.5 g) with built-in battery
Light with Mounting Bracket: 1.00 oz (28.3 g) with built-in battery
UL Headband: 0.17 oz (4.8 g)
Wide Headband: 0.85 oz (24.2 g)
USB Cable: 0.79 oz (22.5 g)
Impact Resistance: 4.9 ft (1.5 m)
Ingress Protection Rating: IP66, complete dust protection and high-pressure water jet resistant
Included
1x Light with integrated USB rechargeable Li-ion battery
1x Wide Headband, Black/White
1x Micro USB to USB charging cable
Optional: 1x UL Headband, choice of colors*
*Nitecore packaging will be opened to install UL headband on mounting bracket prior to shipment. To use both UL and wide headbands, purchase an extra mounting bracket.
User Manual

Very bright light, to avoid eye injuries, DO NOT stare directly into the light and DO NOT shine the light directly into the eyes of others.
Keep away from children to avoid injury.
DO NOT use if battery is damaged to avoid fire or explosion.
Charge in or on a fire-proof surface to avoid possible injury. DO NOT charge unattended.
Charge only at temperatures between 32-113°F (0-45°C) to avoid permanent damage and possible fire or explosion during charging.
Recycle or dispose of properly according to local regulations at end of life, DO NOT dispose in fire or incinerator as battery may catch fire and explode.
In no event shall Litesmith, LLC be liable for any direct, indirect, punitive, incidental, or special consequential damages, to property or life, whatsoever arising out of or connected with the use or misuse of its products.